At the very end of July I released Exp3D on Google Play.
Getting noticed among the tons of games published every week, especially in the saturated genre of space shooters is quite a challenge.
So how did it turn out for Exp3D?
Let's take a look at last month's download numbers.
Google Play statistics:
In the first month following its release the game has been downloaded 15,000 times.
It's not too bad, but it's not great either considering it's a game you can download for free, with no entry barrier.
Here is the daily number of downloads per device:

The spikes correspond to reviews that were published on major Android news websites:
August 8th: FrAndroid article (biggest French Android community)
From August 19th: AndroidPolice Best New Games then AppsZoom review then Android And Me Best New Games and SuperGameDroid Indie Round-Up .
Google Analytics statistics
Analytics is bundled within the Exp3D APK so I can track anonymous data like the number of installs, the average in-game progress of the player.
For example here is the number of persons who are playing Exp3D each day:

An average of 6,000 players a day. Not bad!
But wait… how come 13,000 people were playing the game on August 11th while at the same time Google Play was reporting only 2,600 total installs?
The answer is simple: "China".
China accounts for 80% of Exp3D players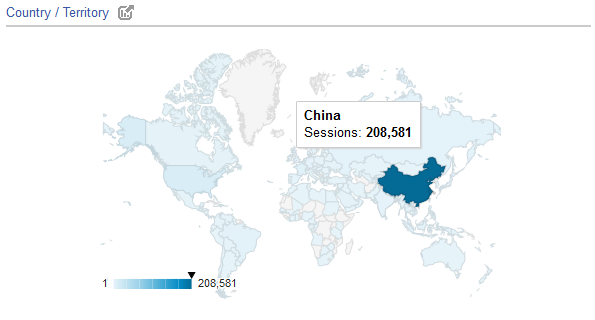 That's right, China is by far the country where Exp3D is the most popular with 200,000 playing sessions. In comparison the US represented only 12,000 sessions during the same period.
Such statistics don't appear in Google Play because… nobody uses Google Play in China.
Most of the Chinese download Android applications through 'alternative markets' like this this one. Those markets mirror official APKs from Google Play (free as well as paid applications) and let you download everything for free.
This is all done without the developers consent, so I guess you could call that 'piracy'.
Piracy has advantages
Honestly I don't mind that much about piracy: I never believed one game stolen equals one lost sale, especially when people in mainland China have no legal way of purchasing a copy.
Besides, the game being free-to-play I have no problem with it being distributed for free.
I would even go so far as to say that as long as the binary is not modified, I'm happy Exp3D is 'illegally' distributed in China.
Because more downloads are never bad, it helps spreading the game. And even though in-app purchases are not available in China, AdMob works fine there so I'm still getting some additional revenue thanks to the Chinese audience.
The few APKs that I have downloaded from Chinese markets and examined were exact copies of the official binary.
However a few sessions with an incorrect build number showed up once in a while in Analytics, leading me to believe some Chinese marketplaces actually do modify and recompile the game.
Here is some overview of the real-time activity of the players around mid-August: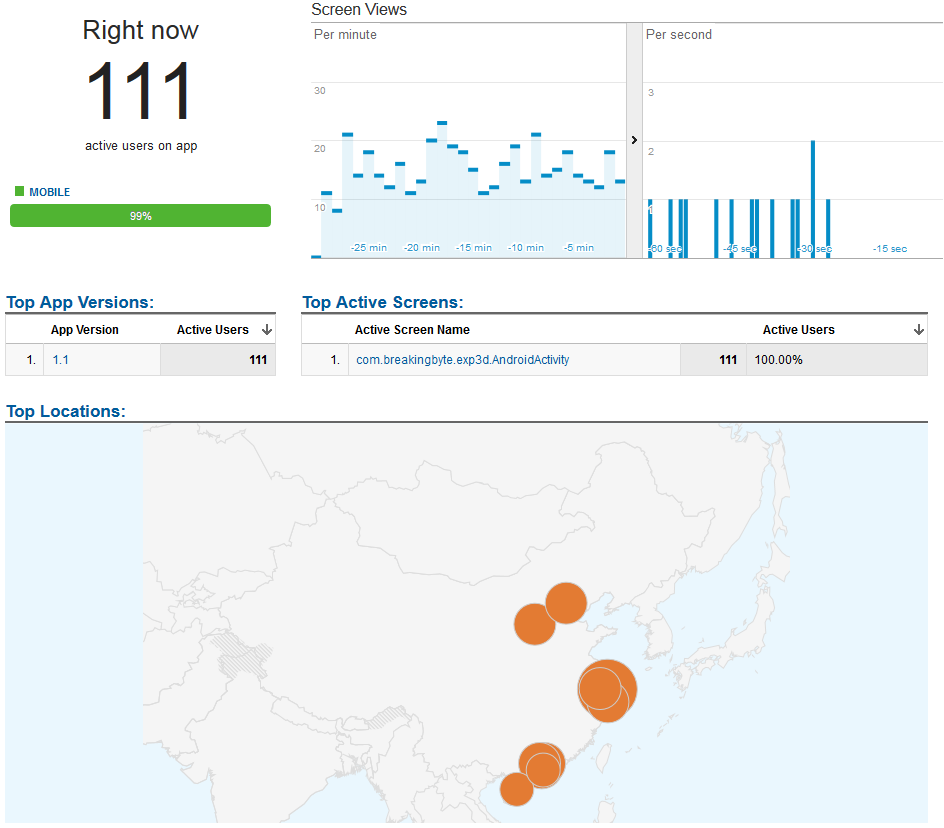 If you haven't tried Exp3D yet, here is your chance.